The outdoor defogging cooling system has many uses: the cooling system is very suitable for installation in your backyard or terrace to cool down from the heat in summer, and it is also very suitable for those who have gardens or greenhouses. Keep their plants and grasses healthy and vigorous. Also suitable for outdoor use.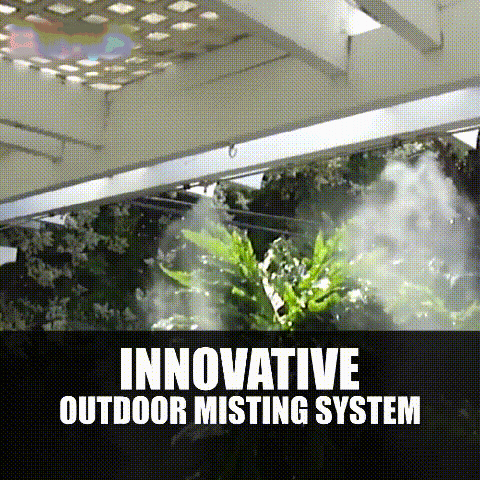 Stay cool while sitting outside on a hot day with the top-notch professional home cooling system, Outdoor Misting Cooling System. The Outdoor Misting Cooling System is a flexible, high-pressure system that is capable of producing industrial-strength mist. The Outdoor Misting Cooling System is engineered in such a way that it is able to withstand higher pressure than the standard misting systems. More so, it creates a finer mist that is able to flash-evaporate at a faster rate.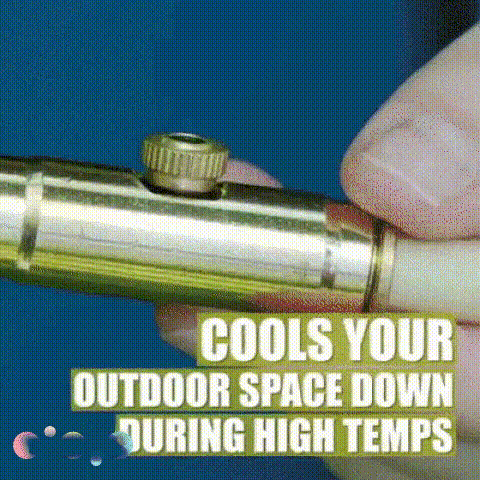 The Outdoor Misting Cooling System delivers a continuous stream of superfine mist which cools the temperature down by around 1ºC. The Misting System can be used with standard water pressure. Easy to set up, this simple irrigation system will make spending outdoors pleasant in any amount of heat.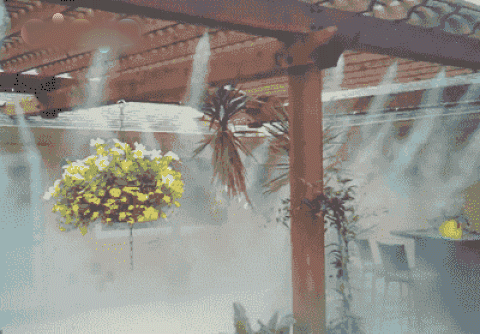 FEATURES:
TURN DOWN THE HEAT - The fantastic outdoor cooling system provides a cool environment from the heat for your favorite outdoor areas. Its cooling and humidifying functions bring you a cool summer and a healthier life.
DURABLE - The irrigation tubing is made from high quality, UV resistant materials, and all of the fittings are made from high-quality plastic. It is great for agriculture, lawn, garden, patio, greenhouse, swimming pool misting fog cooling irrigation
ENERGY SAVING - The atomizing cooling system is directly cooled by a tap water spray, does not consume electricity, letting you save money.
EASY TO USE AND INSTALL - This Outdoor Misting Cooling System can be assembled and have you enjoying your backyard in just minutes. It will attach to any standard outdoor faucet(3/4 inch). No special tools are required.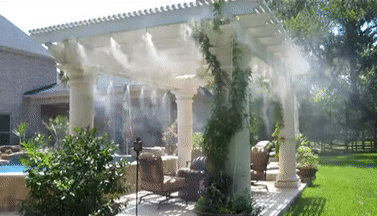 Instructions:
Connect the faucet adaptor to the water tap

Turn on the water to rinse out the system for 1 minute

Screw the misting nozzles to the Tee fittings, except the last one for the end plug

Turn on water to rinse out the system for 2 minutes

Turn off water and install last nozzle into the end plug fitting

Fix the misting line with the provided saddle clamps

Turn on tap slightly until mist jets are running

Enjoy the misting system
Product Specifications:
Material: PE Plastic
Nozzle Material: Brass body with stainless steel orifice
Nozzle Connector: Slip Lock Connector
Tubing: PE Tubing
Power Supply: Hooks up to home hose/tap water system
Size: Nozzle Interval: 23.62 inches (60cm)
Package Includes:
1 x Outdoor Misting Cooling System Set
20ft (6m) Set:
1 x 9.84ft (3m) water supply pipe
1 x 9.84ft (3m) spray pipe
6 x spray seats
6 x nozzles
1 x faucet connector
1 x plug
20 x ties
20 x pipe buckles
30ft (9m) set:
1 x 9.84ft (3m) water supply pipe
1 x 19.69in (6m) spray pipe
11 x spray seats
11 x nozzles
1 x faucet connector
1 x plug
30 x ties
30 x pipe buckles
40ft (12m) set:
1 x 9.84ft (3m) water supply pipe
1 x 29.53ft (9m) spray pipe
16 x spray seats
16 x nozzles
1 x faucet connector
1 x plug
40 x ties
40 x pipe buckles
50ft (15m) set:
1 x 9.84ft (3m) water supply pipe
1 x 39.37ft (12m) spray pipe
21 x spray seats
21 x nozzles
1 x faucet connector
1 x plug
50 x ties
50 x pipe buckles
60ft (18m) set:
1 x 9.84ft (3m) water supply pipe
1 x 49.21ft (15m) spray pipe
26 x spray seats
26 x nozzles
1 x faucet connector
1 x plug
60 x ties
60 x pipe buckles
We process orders between Monday and Friday. Orders will be processed within 2-7working days after ordering, and shipped the next day after processing. Please note that we do not ship on weekends.

Shipping costs:
There are now three options, the first standard shipping: the order amount from $0.01 to $59.98 requires a charge of $6.99. The second type of free shipping: free shipping if the order amount exceeds $59.99. The third type of rush: You can pay us $19.99, and we will serve you with faster logistics and faster processing speed.
COUNTRIES WE CAN SHIP TO:
Absolutely, we can ship all over the world.
The United States, Canada is our main customer, besides of these country, we have the customers from the United Kingdom,Australia, Austria, Norway, France, Germany, Saudi Arabia, Russia, Ukraine, Korea, Malaysia, Singapore, Turkey, Belgium, Switzerland, Denmark, Hungary, Italy, Luxembourg, New Zealand, Netherlands, Poland, Spain, Japan, Finland, Ireland, Brazil, Mexico, Portugal, Thailand, Sweden, etc.
THE APPROXIMATE SHIPPING TIME ACCORDS TO EACH COUNTRY:
America you can expect your parcel to arrive within 10-20 working days
Arrive in other countries within 14-30 working days
*PLEASE NOTE THAT THESE ARE ESTIMATED DELIVERY TIMES ONLY, WE DO NOT GUARANTEEING DELIVERY DATES.
Please ensure that all shipping information is correct. If the information is incorrect and/or missing, we may need to contact you to update the delivery information, which may cause delivery delays. Customs clearance may also cause delays. Your local customs may require other documents and time to clean up your package, which may delay the estimated delivery time. To Your order may be delivered to you by the local post office or local courier company. Depending on your area, most orders will be delivered by your local postal service, so the package will be received with your regular mail. If you are not at home at the time of delivery, the postal service may leave a notification card to tell you how and where to pick up the goods. Please fill in your address in all the details, otherwise the package we send you will be returned to us, otherwise we will ignore your request, so as not to trouble everyone.
Precaution:
In most countries/regions, our customers do not need to pay import fees, customs duties or value-added tax (VAT). However, for some restricted countries/regions, you may be required to pay customs duties or value-added tax according to the collection rules of your country/region.
If you have any other questions, please contact our customer service